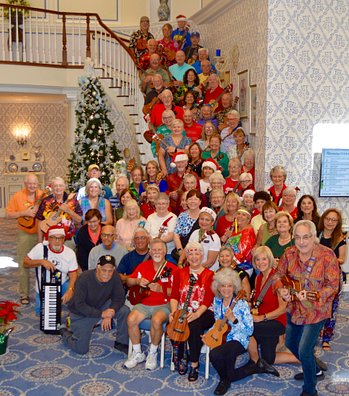 Peace, Love & Ukulele
Club
The Villages, FL
Check out our "Music Lineup" page
for the list of our music for this week!
The Daily Sun coverage of
Peace, Love & Ukulele Club.
August 9, 2021
No Club on May 23rd...
it's the 4th Monday!
---
HAPPY T
GETHER
Performing music from the 60's, 70's & 80's.
Mystic Ice Cream
Sunday May 29th 6:00 – 8:00 PM
We are groovy Members of:
Peace, Love & Ukulele Club …
in The Villages
Come rock the night away and
relive your younger years in our music!
Welcome to our Peace, Love & Ukulele Club website!
We are a ukulele club in The Villages, FL that plays music from the 60's, 70's and 80's.
These were some of the most memorable times in our lives and have left us with incredible memories. As we sing these songs, we reminisce about these times and it brings a smile to our faces and sometimes a tear to our eye...
If you are a resident/guest of The Villages, please come and join us on Monday mornings* at Laurel Manor Rec. Center at 10:30am for a musical journey back in time! * except the 4th Monday of the month
All levels of ukulele players are welcome. Some of our music is more challanging, but I feel confident you'll enjoy yourself and learn something new each week!
Copyright 2019 Website.com. All Rights Reserved.